Practice is being held at Darussafaka Ayhan Sahenk Spor Salonu, a "pretty colorful gym" as described by the official Celtics Twitter account (@celtics).

Molly McGrath (@MollyAMcGrath) tweeted another panoramic view of the stadium.
Not too sure if I'd describe it as vibrant even, but the place sure is coloured up pretty brightly. It feels like some fun house rather than a serious sports venue. The seat placement is good though, guaranteed views for every bugger out there without fear of heads blocking views.
Edit: Holy crap it's an orphanage? This facility is crazy good.
There's a cute video of kids presenting flowers to some of the guys, makes me go awww. (via @celtics)
---
There's also some shots of Avery Bradley shooting. If a guy with multiple shoulder surgery is comfortable enough to shoot, that's a good sign his rehab is going pretty well.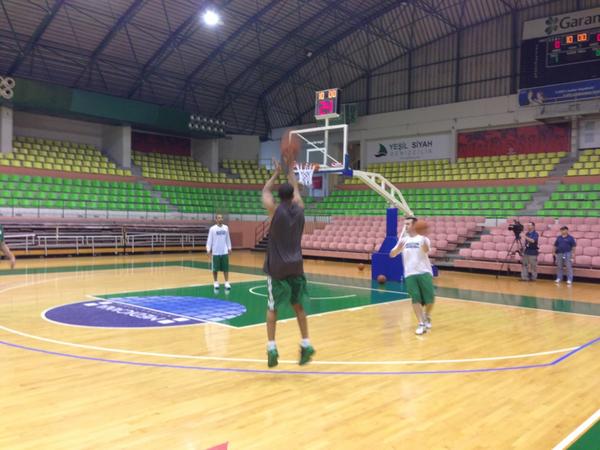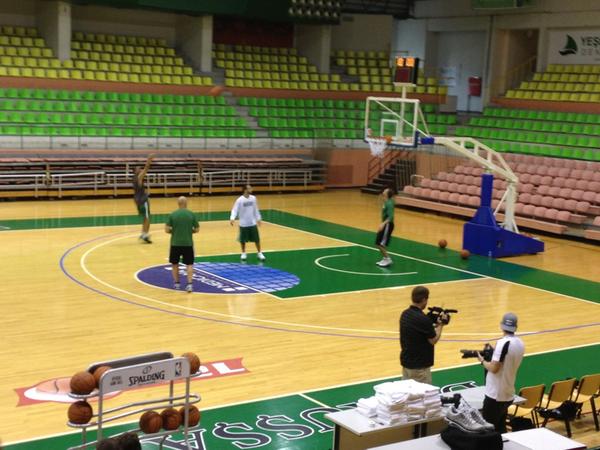 More goodies to appear on Celtics.com later, according to Molly McGrath. (I'll update the post when it appears.)
Check out Celtics.com later today for videos on Bradley's progress, team workouts, Lee's bday,and Jared Sullinger's 1st video blog.

—
Molly McGrath (@MollyAMcGrath) October 03, 2012
Molly McGrath has good news on Bradley's status:
Just talked to Avery Bradley and he said that he feels great, has no pain in his shoulders, and has progressed much faster than expected.

—
Molly McGrath (@MollyAMcGrath) October 03, 2012
Here's an official Celtics interview on Bradley; sounding positive my man! If there's no pain and he's swishing jumpers, all is good.
There's also a Doc interview in the clip where you can see PP and KG running a pick and pop. Naturally, KG nails the jumper. Green and Lee blurps also included towards the end, chipping in with comments about coming European game(s).
---
Practice shots
A shot of the guys going at it, courtesy of Sherrod Blakely.
Following Wilcox's bruise and absence yesterday, Darko takes a hit today and leaves practice. Stay healthy man, the season hasn't even begun!
#celticstalk: Darko takes hard spill. Eventually walks off on his own. Unlikely to return to practice.

—
A. Sherrod Blakely (@SherrodbCSN) October 03, 2012
Update: he's back apparently, whew.
#CelticsTalk: Darko returned to practice, a good sign for the #Celtics in their efforts to have lots of (healthy) frontcourt depth.

—
A. Sherrod Blakely (@SherrodbCSN) October 03, 2012
Wilcox is out with a back strain, doesn't sound too serious so that's good.
Chris Wilcox watches practice from sideline. Diagnosis back strain. Not heart-related.

—
Mark Murphy (@Murf56) October 03, 2012
Update: Great photos of the practice session from Sina, via Red's Army.
---
Media session
Sherrod shares a snap of KG with the media, looking very serious.
The Turkish media hits in one large pack, and Garnett obliges. He offers to hold reporter's tape recorder while he speaks.

—
Mark Murphy (@Murf56) October 03, 2012
#Celticstalk: Kevin Garnett addresses the media. yfrog.com/kh8lnirj #Celtics

—
A. Sherrod Blakely (@SherrodbCSN) October 03, 2012
His replies are anything but serious though, judging from this tweet:
KG, when asked if this is his last contract, says, "Well, with modern medicine and my pay scale – nah, just joking. I have no idea."

—
Mark Murphy (@Murf56) October 03, 2012
Jared Sullinger kicks off day 1 of his video blog, narrating his Europe experience so far – he's a pretty good talker.
---
A quick piece from the Boston Globe's Gary Washburn gives more details on the practice.
Some details on the scrimmage, pretty intense apparently:
The session was mostly scrimmaging and the players were intense despite arriving in town less than 24 hours before. Kevin Garnett sank the winning shot in the final scrimmage, one of his customary midrange jumpers, as the session went into overtime. Players were battling and there was even a brief shoving match that involved Garnett and Dionte Christmas.

Courtney Lee jokingly stepped in the middle of the fray and cooled any tensions.
It's surprising to read about Christmas getting physical with KG, damn but does the guy have balls. I'm really hoping he stays in the roster when season begins – we need confident guys, period.
---
Happy birthday Courtney!
If you wanna talk about social bonding, celebrating a birthday's probably one of the ways to make everyone feel all warm and fuzzy. Happy birthday to Courtney Lee, must feel good to have a birthday song sung by the team.
The Celtics just huddled up at practice and sang happy birthday to Courtney Lee...really cute moment. #teammates

—
Molly McGrath (@MollyAMcGrath) October 03, 2012
Dionte Christmas is taking the birthday boy out to dinner apparently, real good of him to do so.
Happy 27th birthday to @CourtneyLee2211. After practice, he was asking rookie Dionte Christmas where he was taking him out for a bday dinner

—
Boston Celtics (@celtics) October 03, 2012
Jeff Green wishes him a happy birthday, complete with voyeur snap.
I need EVERYONE to wish my bro @CourtneyLee2211 a happy birthday...he's waiting on his ipad lmao http://t.co/O9KoNLea

—
Jeff Green (@unclejeffgreen) October 03, 2012
---
Jeff Green escapes to the quiet of his hotel room – does every room have a great view or what?
Sitting on my balcony just chillin for the rest of the day listening to music...#Thankful http://t.co/dba7GsH4

—
Jeff Green (@unclejeffgreen) October 03, 2012
And rounding the post off – Paul Pierce has something Ubuntu-ish to say about the trip so far:
Being together builds chemistry this is the start http://t.co/tljNFhSD

—
Paul Pierce (@paulpierce34) October 03, 2012
Plus touristy photos.
Lounging http://t.co/szhKmwB4

—
Paul Pierce (@paulpierce34) October 03, 2012

Paul Pierce (@paulpierce34) October 03, 2012